I believe many people have a lot of doubts about the choice of H96 max tv boxes, so this article will introduce you how to choose a H96 max tv boxes from four aspects. I hope that after reading this article, we can provide some help.
1. Chip selection 64 bit processor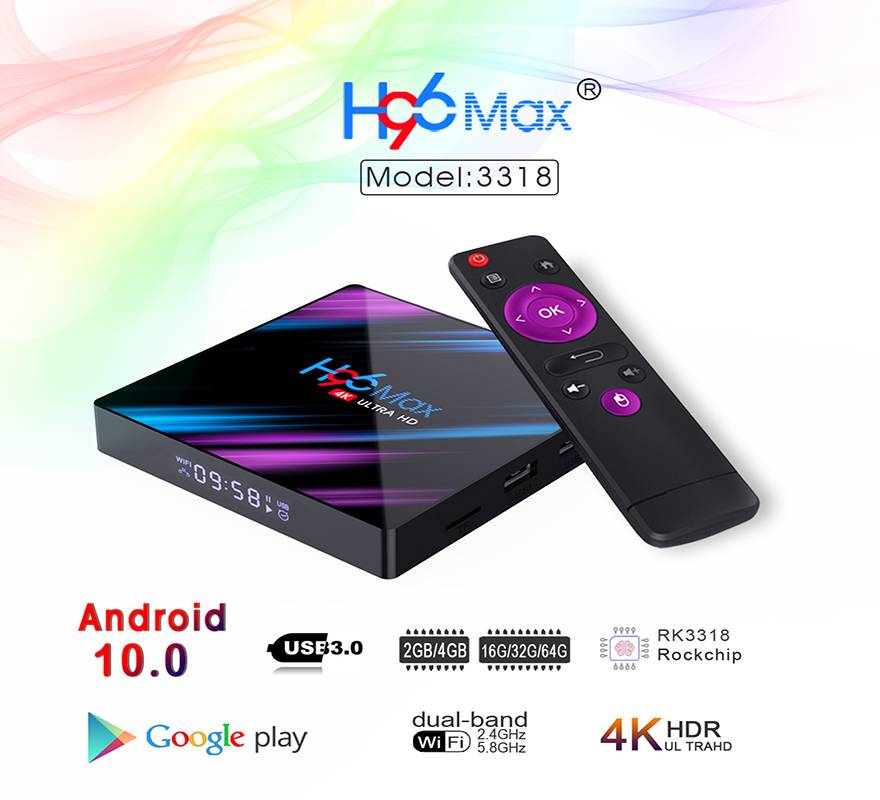 With the increasingly stringent requirements of modern people on the entertainment performance of intelligent network H96 max tv boxes, intelligent network H96 max tv boxes carry more computing than ever before, and applications in games, shopping, learning, life and other aspects, especially the version after Android 9.0 is more equipped with 64 bit software system. Therefore, 64 bit processors should be selected when choosing intelligent network set-top boxes. As shown in the figure, H96 MAX RK3318 tv box uses 64 bit processor, and this H96 max tv box is also one of our best selling products.
2. Select large memory, EMMC high-speed flash memory
Memory determines the smoothness of system operation and application operation of intelligent network H96 max tv boxes. Most of the new intelligent network H96 max tv boxes in 2022 are equipped with 4GB memory, which is sufficient compared with the current popular TV app; The NAND flash memory of ordinary H96 max tv box generally has a reading speed of about 8-15Mb/s, while the reading and writing speed of EMMC is generally more than 23Mb/s. Using EMMC intelligent network H96 max tv box will have a smoother operation experience.
3. Output interface is selected on demand
When purchasing intelligent network H96 max tv boxes, the selection of interfaces should follow two principles:
(1) Choose the set-top box based on whether the TV interface in your home is HDMI or AV Tri Color interface;
(2) Choose the richness of interfaces according to personal needs.
For ordinary users, one HDMI interface can transmit HD video and audio.
For film and television players, in addition to hdmi2.0 interface, SPDIF is also essential, because HDMI 2.0 can transmit perfectly 4K@60Hz Ultra high definition Blu ray image quality such as 4K HDR.
4. Android version should be above 9.0
With the update and iteration of the version, Android version above 10.0 should be selected in 2022. Android10.0 also improved the system processing capacity, memory utilization increased by 100%, software installation speed increased by 75%, running speed increased by 600%, security performance also improved comprehensively, and it also perfectly supports HDR/WCG and full 4K core.